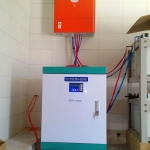 Service category:
Manufacturing & Production
Payment:
Service types:
Electrical Equipment, Appliance Manufacturing
Description
A.R.Brothers established in 1998 having GST and NTN, Company provides the following Sales and Maintenance services of :-
 Computer hardware & software;
 Networking & Communication;
 Safety & Security Equipment;
 Solar & Wind power Generation;
 LED Lighting
We supply and install equipments with after sales support and warranty. We provide high quality products on affordable prices.

1. Computer Hardware & Software
A.R.Brothers offer complete range of Computer Hardware sales and support services to companies and organizations. All types of computer hardware, laptops, printers and LCD Monitors. We provide software solutions including website development, inventory and accounts software etc.

2. Network & Communications
A.R.Brothers offer Complete Range of wired or wireless Local Area (LAN) and Wide Area (WAN) Networking Solutions. Data Traveling and all types Data Communication including Audio & Video.

3. Safety & Security Equipment
A.R.Brothers offer Complete Range of CCTV Security Systems, Fire Alarm Systems, Burglar Alarm Systems, Walkthrough Gates, Metal Detectors, Vehicle Search Mirror, Under Vehicle Scanning System (UVSS) and Access Control Systems.

4. Solar and Wind Power Solutions
A.R.Brothers offer Complete Range of Solar and wind based electricity generation systems. Everywhere in Pakistan sunlight intensity is sufficient and abundant quantity. This sunlight is sufficient for producing electricity through photo voltaic modules.
Wind turbines for electricity production are ideal for those areas where a continues or sporadic wind speed is available between 3 – 50 m/s; which is most likely the case in costal areas, hilly areas and other high wind zones.

5. LED Lighting
A.R.Brothers offer Complete Range of indoor and outdoor LED Lights, SMD Based Lights, LED Ceiling Lights, LED Down Lights, SMD Based Flood Lights, LED Strip Lights, LED Street and Garden Lights etc.
LVD Lights (Based on the principle of electromagnetic induction)

Our firm's details are as under

Firm Name : A. R. Brothers
Year of Establish : 1998
N.T.N. No. : 1021614-6
G.S.T. No. : 26-00-9999-202-64
Intel Channel Partner : 10361332
AGPR Vendor No. : 30056695
Technology Partner with : www.innosol.pk
INNOSOL Pakistan
(Solar, Wind and LED Lights)
Bankers : MCB, Main Branch, Civic Center, Islamabad

Contact Details:
Telephone No. : 051-2605698, 051-2538347.
Mobile No. : 0333-5533362, 0321-5164024
Skype : Muhammad.Abdur.Rahman
E-mail : arbrothers@live.com
Web Site Address : www.arbrothers.com
Address : 4-D, First Floor, Mahmood Plaza,
Fazal-ul-Haq Road, Blue Area, Islamabad.